---
Sterling Lawyer Wins High Jump World Championship
By Matt Vecchio
Thursday, 11 March 2010

"You don't stop playing because you get old, you get old because you stop playing." -George Bernard Shaw.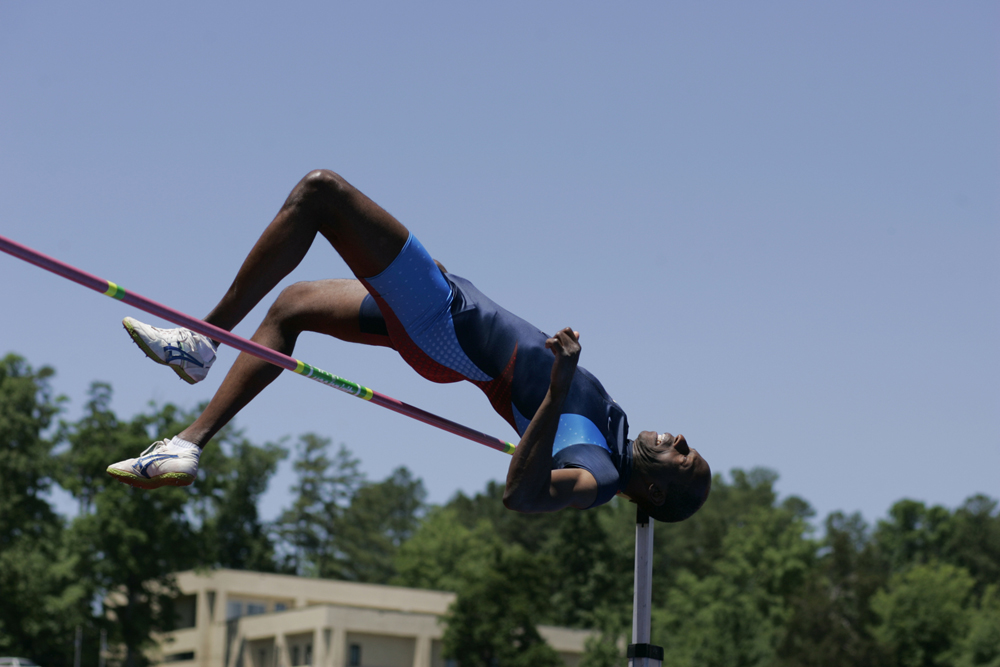 Bruce McBarnette, of Sterling, perhaps personifies this quote the best. McBarnette, 52, is a lawyer, owns a real estate firm, has modeled and acted, and, oh yeah, is a world champion high jumper.
McBurnette jumped 6 feet, 6 3/4 inches (2.00 meters) at Duke in 2006, setting an age record.
On March 6, McBarnette won the World Masters Indoor Track and Field Championships in the high jump for men over 50 years old. He jumped 6 feet (1.85 meters) to claim the title in Kamloops, Canada. This was his eighth World Championship victory for his age group. McBarnette has broken the USA high jump record for his age group 10 times in less than two years.
McBarnette competes for USA Track and Field. He was named Athlete of the Year in 2008 for men 39-54 years old.
"It's a wonderful feeling to go to the international competitions around the globe to share the comrade and develop friendships with people from around the world," McBarnette said. "Everyone is so supportive of each other and share the love of the sport."
McBarnette got his start while pursuing an undergraduate degree and playing football at Princeton University.
"My first year I went out for the track team in the spring, as I wanted to stay conditioned," McBarnette said.
That's when he met coach Fred Samara, a former Olympian and Princeton's coach. Samara needed a high jumper for his team, and McBarnette was a natural fit. Under Samara's tutelage, McBarnette jumped his way to the top of the Ivy League.
McBarnette graduated with a newfound love for the sport. He continued competing while pursuing his law degree at New York University.
McBarnette also dabbled in acting, appearing on TV shows such as "West Wing," "The Wire" and "Law and Order", and in movies such as "Rendition" and "Shooter."
It's not easy setting high jump records at any age, and McBarnette employs a rigorous workout schedule to stay in elite shape.
"I do a lot of sprint workouts, distance training every day, stretching, running hills and running stairs," McBarnette said. "I workout in the snow, whatever the weather. That gives you a snapshot of what kind of training I do."
McBarnette will likely be jumping for a long time to come.
"I want to compete as long as I'm physically able to," McBarnette said. "No matter how old you are, there's always a group you can compete with, so I have no plans to stop jumping. I've been doing it so long it's become a part of my life.

See original article - click here