Bruce McBarnette raises own M50 American record in the high jump
Competing against two other jumpers 30 years his junior, 52-year-old Bruce McBarnette cleared 1.94 meters (6-4 1/2) Saturday at the Atlantic Coast Invitational in Newport News, Virginia. Results are here. That ups his own M50 American record of 1.93 set last year at Oshkosh masters nationals. By Bruce's count, "this was the 11th time in less than three years that McBarnette has broken a United States high jump record for (his) age group," says a press release sent out today.


A recent inductee of the USATF Masters Hall of Fame, Bruce cleared the record on his first try "before an excited crowd of athletes and spectators."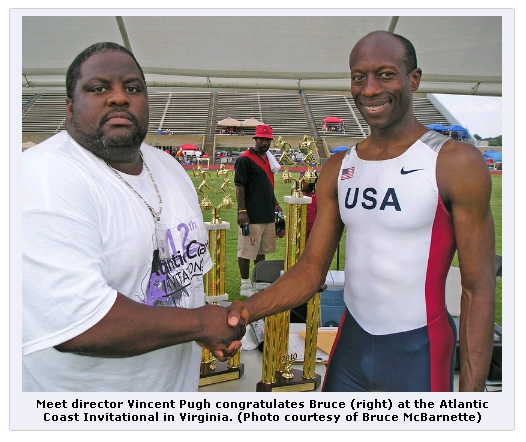 Bruce gave out several signatures to youth at the meet and said: "By being a role model, I try to encourage young athletes to do their best on and off the field."
Only one thing left for Bruce's resume: a world record. The listed M50 WR remains the legendary 1.98 (and 2.00 indoors) by Germany's Thomas Zacharias, a 1968 Olympian.
That's 6-6 and 6-6 3/4.
---