Bruce McBarnette, 8 time world champion and 21 time USA Track and Field National Masters Champion, will be defending his world title in Sacramento, CA in August, 2011.

He needs your support for travel and training expenses for this event and numerous other competitions leading up to it.
For a donation to the Bruce McBarnette Fund, you can receive the following for your generous support.
$50 or more


An 8x10 picture of Bruce McBarnette below.



$500 or more

Mr. McBarnette will give a talk about the pursuit of excellence at your school, college, church, association, or business (does not include travel expenses). He will also give a talk on any one of the subjects on which he lectures at local colleges. Click here to view his teaching schedule.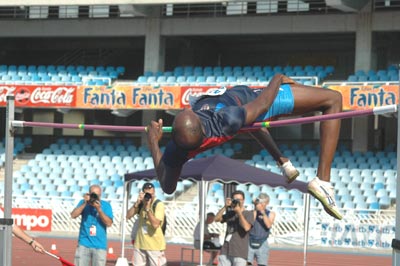 You may donate either online or by mail following the instructions below.
Sponsor Bruce
With Your Credit Card

You may purchase in increments of $25. Put number of increments in the quantiy box. For example 2 would equal $50 and 20 would equal $500.

Click on Buy Button and when you have completed your transaction please send an email message to mcbarnette@mcbarnette.com indicating which, if any, benefit you would like to receive for your donation."


2CheckOut.com Inc. (Ohio, USA) is an authorized retailer for goods and services provided by Summit Connection.

By Mail

To sponsor by mail, send a check written to the "Bruce McBarnette Fund" to:

Bruce McBarnette
Summit Connection
248 Willow Terrace
Sterling, VA 20164


In the memo portion of the check on the lower left indicate which, if any, benefit you would like.

Because of you Mr. McBarnette will continue to be a fine role model for young people and at the same time proudly represent the United States in International competition.


Thank you for your kind support.