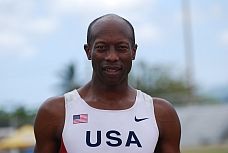 Bruce McBarnette is an accomplished American high jumper with numerous world records and world and national championship titles, who has been featured in Sports Illustrated, the best- known US sports magazine. A graduate of Princeton University, where he was president of his class, he also has a law degree, is a former JAG attorney for the US Army and has acted as counsel for the US Senate and the federal entity,
Fannie Mae. Currently, a lawyer and real estate investor by profession, he has found time for philanthropy and has raised more than $100,000 for various charities. On top of his professional pursuits, Bruce McBarnette is also an actor who has had roles on TV shows, such as Law and Order, 24 Hours, West Wing, The Wire, and in movies, such as Body of Lies, Shooter, Ladder 49, Along Came the Spider, Contact, Deep Impact, and Jackal.
What is your reason for going to participate in the World Masters Athletics Championships Stadia at Porto Alegre in October 2013?
I want to win a world championship. I have won 9 world championships and enjoy meeting my fellow athletes at these events.
What are your goals in this championship?
I want to jump 1.90 in the high jump.
Is this the first time you have been to South America? If not, how many times have you been?
I have visited only once, Venezuela.
Are you going alone to Porto Alegre or will you be accompanied by a partner who is competing (or not competing)?
Alone
What events will you do?
High jump. Men 55.
(20.04.2013)