Click here to Sponsor Bruce McBarnette
Bruce McBarnette
World Champion Masters High Jumper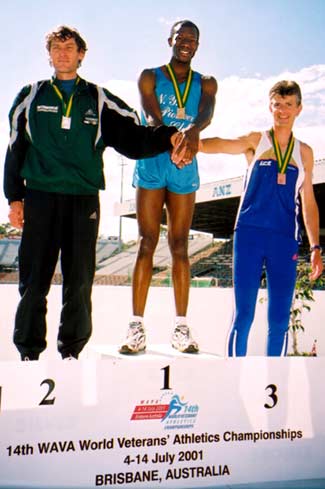 Bruce McBarnette has won 9 world championships for his age group and 24 USA Track and Field Masters National Championships. He has also broken world records for his age group on several occasions. USA Track and Field has selected him Athlete of the Year for his age group in 2002, 2004, 2005, and 2006, 2007, 2008, 2009. His best life time performance was 7 feet 1 inch ( 2.16 meters) at the Rutgers Relays at Rutgers University, New Brunswick, NJ in 1984. A member of the Potomac Valley Track Team, McBarnette competed in college for Princeton University, where he was coached by former USA Olympic team coach and former USA Track and Field Chair, Larry Ellis as well as former Olympian Fred Samara. For his most recent performances as listed on the Masters Track website click here.

Several articles have been written about Bruce McBarnette's accomplishments in Track and Field High Jump competitions. To see these articles, click on the links below.

To view and download photos of Bruce McBarnette, click here.

To see Bruce McBarnette setting an American Record at the Hayward Classic August 2, 2008, click here.

---
World Masters Athlet

ics Website

4/20/2013

:

Bruce McBarnette is Ambassador for Porto Alegre.
Manual for 2011 World Masters Championship. See Bruce McBarnette on the cover.
USA Track & Field, 7/23//2010: Contrasting styles highlight M50 high jump competition
The Running Network, 7/20/2010: Twelve Olympians and 113 reigning world champions
News Channel 5, 6/29/2010: World Champion and Actor Speaks to High School Grads
Masters Track & Field, 6/19/2010: McBarnette raises own M50 American record in the high jump
Loudoun Independent, 3/11/2010: Sterling Lawyer Wins High Jump World Championship
Loudoun Times-Mirror, 3/9/2010: Another Track Title for McBarnette
USA Track & Field, 3/7/2010: U.S. efforts at World Masters Indoor Champs
USA Track & Field, 2/8/2010: Largest U.S. team ever to compete at World Masters Championships
Loudoun Times-Mirror, 8/11/09: King of the Track
Loudoun Independent, 8/6/09: McBarnette Wins High Jump Championship
Loudoun Times-Mirror, 7/21/09: Another Track Record
Washington Running Report, 7/13/2009:Highlights of the Four Day Meet Held in Oshkosh, WI
USA Track & Field, 7/10/09: Three more WRs at USA Masters Championships
Masters Track Blog, 7/9/09: Will Oshkosh weather dampen McBarnette's record bid?
Loudoun Times-Mirror, 6/23/09: New Track Record
Cool Running News, 3/9/09: McBarnette, Michelson set masters records
Track & Field News, 8/5/08: Top contenders at USA Masters Championships
National Masters News, 5/1/08:Making the Gold Standard
Loudoun Easterner,12/5/07: Athlete of the Year
Loudoun Easterner, 5/17/06: Loudoun Athletes Breaking Records
Loudoun Independent, 5/6/06: Loudoun athlete sets jump record
TimesCommunity.com, 3/7/06: Record Setter Again
TimesCommunity.com, 2/28/06: Record Setter
Washington Post, 2/27/06: Sports Shorts
TimesCommunity.com - Loudon County, 2/7/06: Bruce Almighty
USA Track & Field News, 1/30/06: McBarnette sets masters records
MastersTrack.com, 1/29/06: McBarnette blasts over own world indoor HJ record
American Track and Field , 8/30/05: Regional News
Loudon Times-Mirror, 8/9/05: McBarnette flying high again
Honolulu Star-Bulletin, 8/7/05: USA Masters Outdoor Track & Field
Loudon Times-Mirror, 4/7/04: Local jumper is leaps and bounds above the rest
Washington Times, 4/4/04: Northern Virginian Man Keeps Raising the Bar
Daily Princetonian, 4/2/04: McBarnette '80 still jumping
Washingtonian Magazine, 12/1/03: Best of Washington
George Washington University's By George, 10/07/03: Kudo's
Sports Illustrated, 9/1/03: Faces in the Crowd
To see a photo and read about Bruce McBarnette's accomplishments at the Championships in Puerto Rico in July 2003, click here.
Herndon Observer, 05/02/03: Local Man Breaks Jump Record
Loudoun Easterner, 04/13/03: World Record Set by McBarnette
USA Track & Field News, 03/29/03: Assault on record books continues at Masters Indoors
Potomac News, 01/15/03: McBarnette offers real-world experience
Portland Press Herald, 08/10/02: Young at Heart, and Legs
Loudoun Times-Mirror, 9/19/01: Lawyer wins first in high jump
The GW Hatchet, 06/01: High jumping his way to success
Loudoun Times-Mirror, 05/16/01: At 43, McBarnette jumps over the competition
Herndon Observer, 04/20/01: Sterling Man Wins National Title
---