The bell rang at Potomac Falls High School just after 3 p.m. on a Thursday afternoon. Bruce McBarnette of Sterling, a world-class veteran high jumper, was sprawled out on the black, rubber surface of the school's outdoor track facility. He was stretching his ligaments and muscles, and mentally preparing himself for his practice that day. It was an unseasonably hot afternoon--90-degrees plus--and May had just started.

Beads of perspiration dripped off McBarnette's forehead as he bent and folded his body into submission.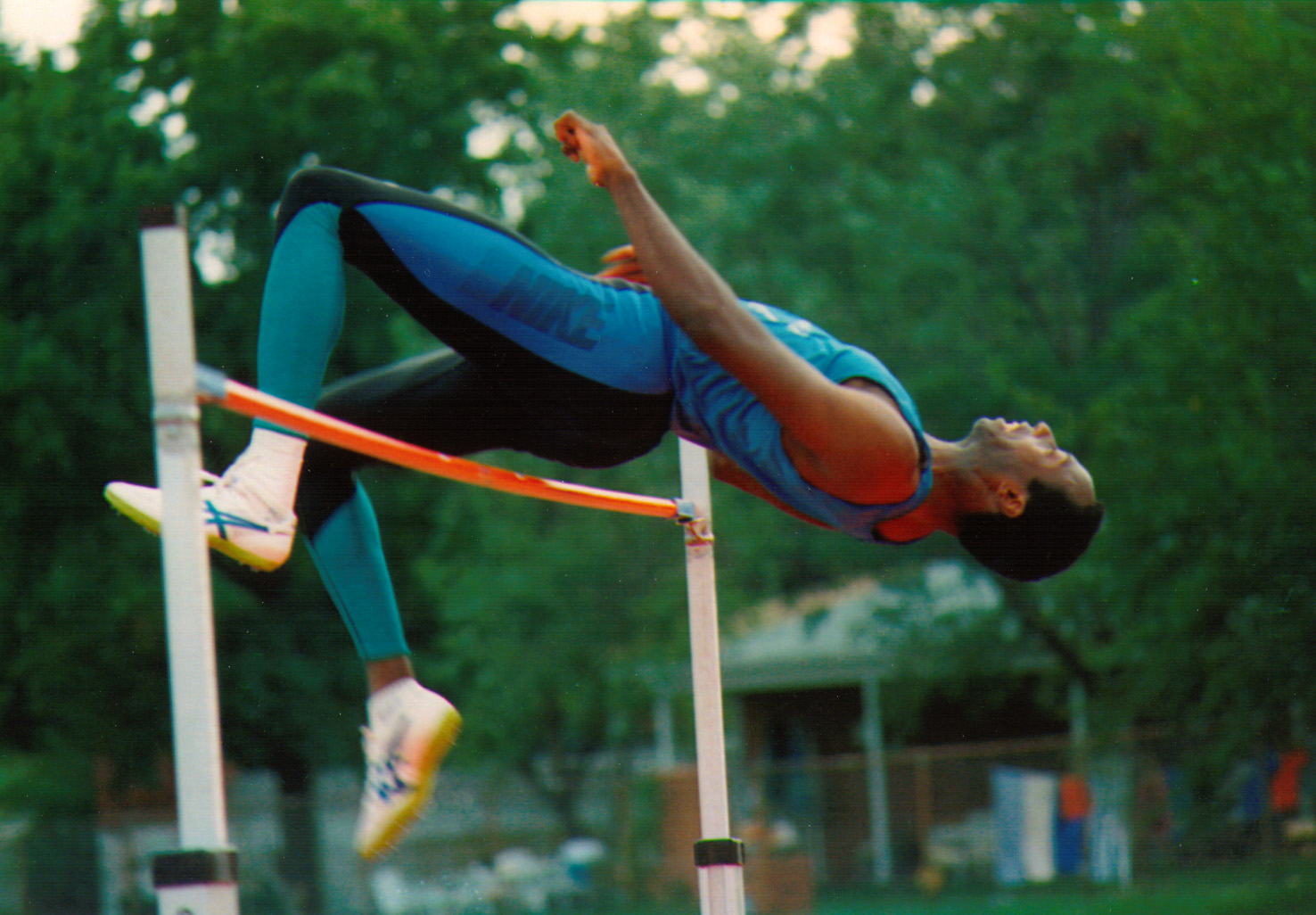 He was finally ready to begin his jumping when he glanced over and noticed the entire Potomac Falls track team filtering into the high jump area. Some of the student-athletes approached McBarnette, 43, who is currently the No.1-ranked high jumper for his age group (40-45) by Masters Track.com--a sanctioned affiliate of the United States Track and Field Association.

McBarnette, without hesitation, popped to his feet, introduced himself and followed it up with a warm-up lap with a host of the Potomac Falls track team.

"This guy is cool," remarked one student.

"Cool" is one word to describe McBarnette. Motivated, headstrong, competitive, and successful are a few more to add to McBarnette's character traits. And with his resume, it is not hard to see why.

An eight-time New York City track champion, McBarnette has also captured the New Jersey and Hawaii championships, and is the current title holder for the Western Hemisphere 2001 championship. And at his age, McBarnette has no plans of ending his jumping career.

"Win or lose, competing is fun," said McBarnette, who regularly takes on athletes half his age. "It is very satisfying knowing that you did the best you could do on a particular day, regardless of how it compares to your best on other days."

Interestingly enough, McBarnette--a 1980 graduate of Princeton University--did not pursue a track career after graduating No.1 (of 300) from Kent (Boarding) School in Connecticut. In fact, McBarnette participated in track as a form of keeping in shape for football. He played cornerback for two seasons while at Princeton. As a sophomore, McBarnette ended his football career to concentrate on track after a successful season.

Under the guidance of coach Fred Samara--a 1976 Olympian--Princeton, along with McBarnette, won the Ivy League Championship the following year.

After graduation, McBarnette went to study law at New York University and finished in 1983.

"I knew in high school that I wanted to go to law school because I knew it was an important part of leading any organization or company," he said.

McBarnette, whose career is a runway of accomplishments, has spent time as a representative to the New York State Senate, a council member on the Impeachment Trial Committee in the United States Senate, legislative assistant to a congressman in the House of Representatives, and an attorney in the US Army.

Also a professional actor and member of the Screen Actors Guild, McBarnette's accolades include small parts in movies like "Contact", "King Pin","The Replacements", "Forces of Nature", "The Pelican Brief" and, most recently, "Along Came a Spider." He also been seen on television in "Homicide, Life on the Street" and tonight (May 16), he will play a secret service agent on NBC's "The West Wing."

"Prior to acting professionally, the only acting I had done was getting kicked out of my elementary school play in sixth grade," McBarnette added.

McBarnette is also a licensed professor of continuing education at George Washington University, Hagerstown College, Northern Virginia Community College and Prince George's Community College.

In 1994, McBarnette established his own financing firm, specializing in mortgage finance and venture capital, which he mans from his home in Sterling.

"It is all about setting your goals and then making a plan to go out and accomplish those goals," McBarnette said.

McBarnette, whose parents instilled the notion of giving back to the community, has helped raise over $200,000 to combat homelessness in the D.C.-Metro area. Beginning in 1990, Charlie's Place--a shelter located off of Connecticut Avenue in D.C. that provides food, shelter and legal aid to the homeless--began to "work(s) with others to encourage community, health and independence among men and women who are homeless," as it states in organization's mission statement.

"It is a matter of helping individuals back on their feet and back into the work place," said McBarnette, who is Director of Development for Charlie's Place.

Setting the bar at 6 feet, 5 inches--just 1/2-inch lower than his jump of 6-5 1/2 at the Western Hemisphere championships in Canada, McBarnette goes through his pre-jump routine. The Potomac Falls track team awaits his jump, just to see if the 40-plus athlete can launch himself over the bar. After measuring out the length of his approach by actually using the Pythagorean theorem--and placing pieces of tape at the top, middle and end of his approach to precisely mark his steps--McBarnette takes off. At the height of his jump, McBarnette slaps his leg to let himself know it is time to go over. His hip clips the bar and it falls to the mat. The Potomac Falls' track team gives him an "almost" response.

Always looking to improve and never shying away from a challenge, McBarnette--whose personal best is 7-1 which he set at Princeton over 20 years ago--questions himself and looks for a remedy.

"My foot wasn't where it should be ... I'll just make a minor adjustment."

He cleared it easily on his next try.