April 16, 2003
World record set by McBarnette

Bruce McBarnette, an attorney who lives in Sterling, set the new world record in the Masters High Jump for men over 45 years old in the USA National Masters Track and Field Championship at the Reggie Lewis Athletic Center in Boston recently.

World Masters Champion for the last two years and six-time USA Champion, McBarnette jumped 6 feet 4 inches (1.93 meters). As a member of the New York Pioneer Track Club, McBarnette regularly competes against athletes half his age. His best performance is 7 feet 1 inch.

McBarnette, president of a real estate investment company, gives speeches to school children about career development. "I encourage young people to learn from sports the lessons that lead to success in life," he said. "The discipline and determination you learn on the field can help you excel in the classroom and in your career."

He is a graduate of Princeton University and New York University Law School. He was a legal counsel for a U.S. Senate committee, a judge advocate attorney for the U.S. Army, and a senior counsel for Fannie Mae before becoming President of Summit Connection. He is also a member of the Screen Actors Guild and has performed in movies and in the television shows "West Wing" and "Homicide." He can be seen in the new Chris Rock film, "Head of State" and the Al Pacino film, "The Recruit." As a volunteer fund raiser, McBarnette has worked to assist Charlie's Place, a homeless service center in Washington, DC.









(the photo below was not included in the Easterner article)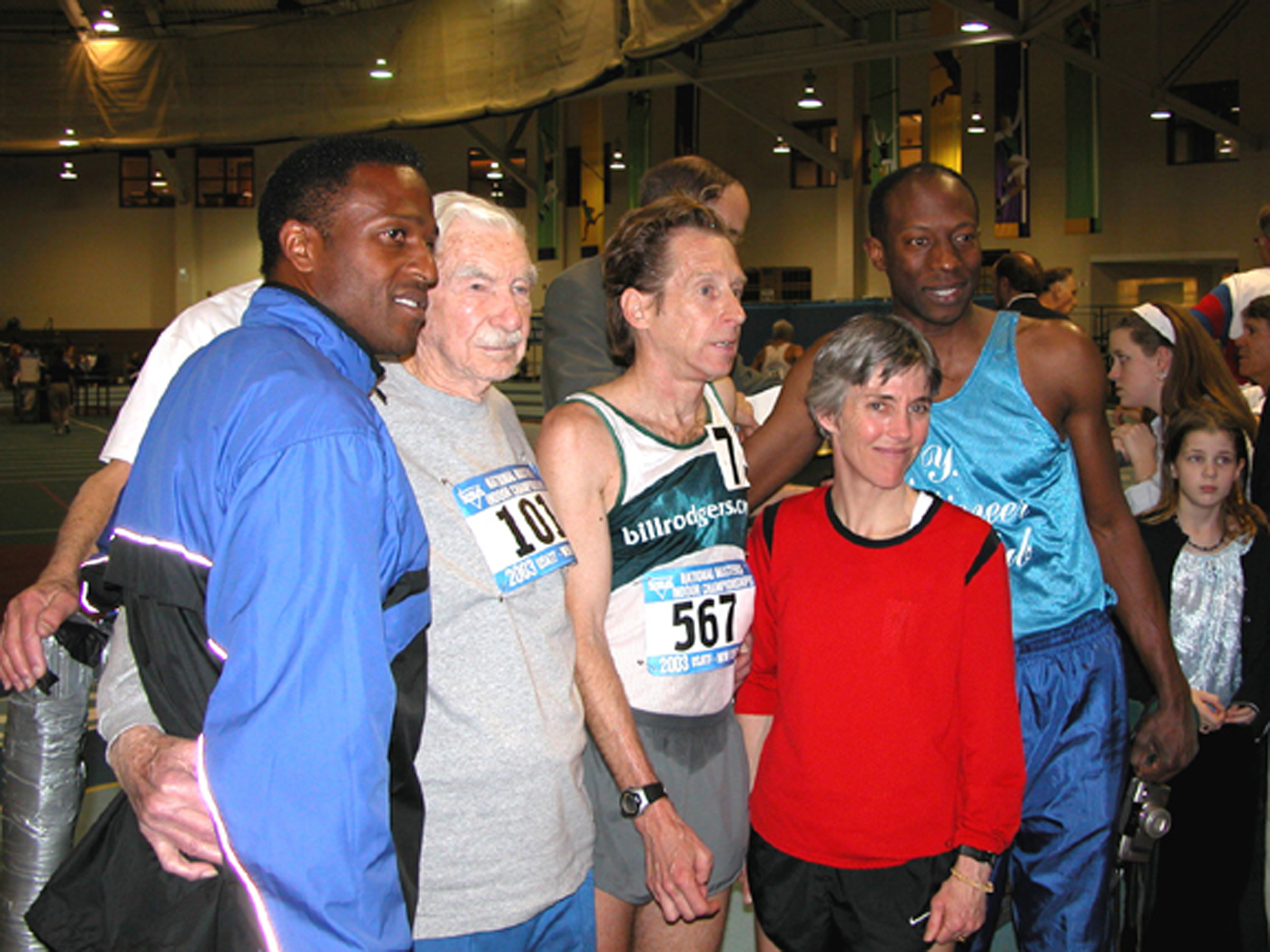 USA National Masters Track and Field Championships,
Reggie Lewis Athletic Center, 2003

Athletes (from left to right): Willie Gault -- sprinter and former olympian and NFL receiver; Everett Hosack -- at 101, track & field's oldest competitor; Bill Rodgers -- 4-time Boston Marathon winner; Joan Benoit Samuelson -- 2-time Boston Marathon winner and Olympic gold medalist set a U.S. record in the women's 40-45 3000m.; Bruce McBarnette -- Princeton graduate, businessman, attorney, actor and athlete, he set an age-group world record in the men's high jump

Photo credit: Jeff Lee